Academic Director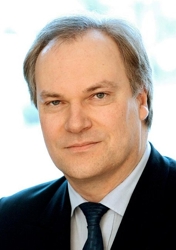 The German Institute of Health Legislation is under the academic direction of Professor Dr. Helge Sodan.
Professor Sodan is born 1959. He attained his postdoctoral qualification in July 1996 at the Faculty of Law at the Friedrich-Alexander University of Erlangen-Nürnberg. Thereafter, in the winter semester 1996/97, he was a visiting professor in public law at the University of Regensburg.
Since April 1997, Professor Sodan has held the chair for constitutional and administrative law, public commercial law and social law at the Free University of Berlin. Moreover, he has been chairman and director of the German Institute of Health Legislation (DIGR) since March 2006. From March 2000 to April 2007 he was president of the constitutional court of the State of Berlin and in this function participated in more than 1,300 constitutional judgements.
As evidenced by numerous publications and specialist lectures, Professor Sodan has been engaged with a diversity of problems in the field of health legislation for more than twentyfive years.
You will find more details on the following website: www.helge-sodan.de